---
Description Summary
Vintage Sterling Silver Four Piece Tea and Coffee Set - Art Deco Style
Main Description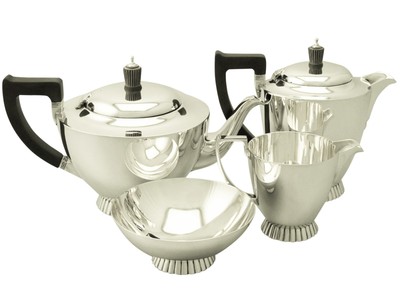 This fine vintage George VI sterling silver four piece coffee and tea service/set consists of a coffee jug, teapot, cream jug and sugar bowl.
The pieces of this tea and coffee service have a plain circular rounded form onto a circular spreading collet style foot.
The surface of each piece of this exceptional Art Deco tea service is plain and unembellished.
Each foot is encircled with impressive chased fluted decoration, all in the iconic Art Deco style.
The teapot and coffee jug are fitted with domed, hinged hallmarked covers, retaining the original iconic Art Deco style carved wood and silver finials, securing to the interior with wing nuts.
The coffee jug and teapot are fitted with the original, fine and impressive angular wood handles featuring a curved elevated thumbpieces.
The cream jug is fitted with an angular sterling silver handle, reflecting the same design as the wooden handles to the teapot and coffee jug.
The teapot is fitted with a plain swan necked spout.
Both the coffee jug and cream jug have plain drop ornamentations to the nadir of the spouts.
This four piece Art Deco tea service is displayed on a silver tea tray for illustrative purpose only - the tray (W5003) may be purchased separately from the AC Silver inventory if so desired.
Condition
This vintage tea service is an exceptional gauge of silver, exceptional quality and in exceptional condition.
The service has been professionally polished and is in presentation condition.
Full hallmarks struck to the underside of each piece and part hallmarks to the interior of each cover are all very clear; the maker's marks are not clearly struck but all remain legible.
Reflections in photographs may detract from the true representation of these impressive examples of vintage teaware.
Dimensions
Coffee Jug
Length from back of handle to top of lip 19.5cm/7.7"
Diameter 11.7cm/4.6"
Diameter of foot 7.7cm/3"
Height to top of finial 16.7cm/6.6"
Teapot
Length from back of handle to tip of spout 26.1cm/10.3"
Diameter 15.3cm/6"
Diameter of foot 8.4cm/3.3"
Height to top of finial 15.8cm/6.2"
Cream Jug
Length from back of handle to top of lip 14cm/5.5"
Diameter 8.6cm/3.4"
Diameter of foot 5.7cm/2.2"
Height to top of handle 9.8cm/3.9"
Sugar Bowl
Diameter 12.5cm/4.9"
Diameter of foot 5.6cm/2.2"
Height 5.2cm/2"
Total Weight
60.5 troy ounces/1882g
Maker: Wakely & Wheeler
Origin: London, England
Date: 1947
Additional Information
We are dedicated to ensuring the highest possible quality service to our customers, always going above and beyond!
See the tabs below to read more about our policies.