---
Description Summary
Antique George IV Sterling Silver Coffee Pot
Main Description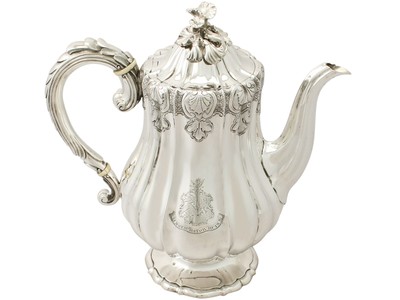 This exceptional antique George IV sterling silver coffee pot has a baluster, melon shaped form.
The upper portion of the coffee pot is encompassed with an impressive band of chased decorated matte trellis decoration accented with a feature scroll and scallop shell design with a pensile leaf motif to each panel.
The lower bulbous portion of this antique coffee pot is plain and embellished with a contemporary bright cut engraved martial coat of arms displaying on the dexter a chevron engrailed between three griffins and on the sinister a lion rampant collared.
This impressive coat of arms is surmounted with the crest of a demi-griffin and all above the motto 'Instaurator Ruinæ' - A repairer of ruin*.
This antique silver coffee pot is fitted with a plain hallmarked flush hinged cover surmounted with the impressive hallmarked floral and foliate shaped finial, securing to the interior with a screw fitment; the flush hinge indicates the fine quality of the piece.
The fine and impressive, hallmarked C scroll handle is ornamented with a large, chased decorated leaf design emanating from the upper terminal and is incorporated into the shaped thumbpiece.
The fine and impressive swan necked spout is plain and reflects the panelled incurved form to that of the body.
The plain domed spreading foot of the coffee pot is encompassed with an applied moulded border paralleling the panelled form of the body.
This impressive coffee pot bears the same style and heraldic bearings as the teapot A4391; they would sit very well together as a composite pair.
* The crest and dexter portion of the coat of arms and motto pertains to the Clan Forsyth; the heraldic reference to the sinister portion has not been determined.
Condition
This antique coffee pot is an exceptional gauge of silver, exceptional quality and in excellent presentation condition, in keeping with age.
The interior of the coffee pot has been professionally cleaned and is ready for use.
The chased decoration is all very sharp and the bright cut engraved coat of arms is crisp in keeping with age.
Full hallmarks struck to the underside of the coffee pot and part hallmarks to the handle, finial and interior of the cover are all very clear.
Reflections in photographs may detract from the true representation of this example of antique silverware.
Dimensions
Length from back of handle to tip of spout 22.7cm/8.9"
Diameter of body 12cm/4.7"
Height to top of finial 23.5cm/9.3"
Weight
29.4 troy ounces/914g
Maker: Charles Price
Origin: London, England
Date: 1829
Additional Information
We are dedicated to ensuring the highest possible quality service to our customers, always going above and beyond!
See the tabs below to read more about our policies.