Chinese Exquisite 100% Natural Hand-carved Green Jade Mosaic heart Pendant
商品ID: 401614617768
卖家: priscillak2018
评价:34(100.0%)
会员注册日:2018-09-10
发送地: Nan yang,Zheng zhou
Region of Origin :China
Type :Necklaces & Pendants
Color :Green
Primary Material :Jade
Original/Reproduction :Unknown
100% Natural Hand-carved Chinese Exquisite Green Jade Mosaic heart Pendant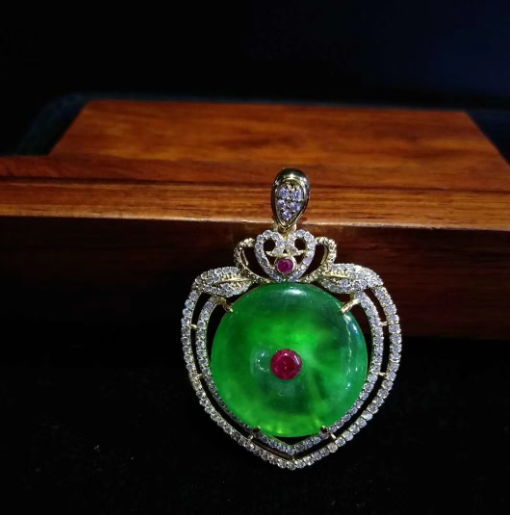 Only accept paypal payments.Thanks!
.We a
shipping: about 15-25days to arrive.
International shipping: about 25-45 days to arrive.
A: No, no reason to accept any return. If you need to return it, you must bear the return shipping!
B: do not accept neutral feedback or negative feedback for any reason, because I offer a 100% refund or return it, and any problem can be solved!
C: honest, trustworthy, peace, to every buyer good shopping experience is our aim, wish for world peace!
We are a company that we collect beautiful Chinese antiques and fine arts and crafts,Art is the human best interpretation of beauty. We collect the folk fine art from China.
Our collection of Chinese porcelain, yixing are recommended, purple clay sculpture. We experienced, vision, provides the high-quality service for you, would you please come into our store, sharing the Oriental civilization interpretation of beauty! Thank you very much!
If you have any question, please contact us, we will give you the answer in a timely manner.
jade culture
The jade carving traditional techniques features tri-dimensional, circular-carving and line-carving, lattice-carving, and openwork-carving etc. Our craftsman used various forms such as human figures, flowers, birds and animals. The diversification of jade carving means different meaning,I hope these jades to bring people peace and happiness.In traditional Chinese culture:
plant
Gourd (葫芦)means good fortune(福)and salary increase(禄).
Various varieties of melon (瓜) means good fortune(福).
Pumpkin(南瓜)means good fortune(福).
Corn (玉米)means to get a good harvest(丰).
Peach(桃) means health and longevity(寿).
Bean-pod(豆),Grapes (葡萄) ,Pomegranate(石榴),Peanut(花生)they all means good fortune(福)and descendants stretches(多子多福).
Apple(苹果)means harmony and peace(平安).
Cabbage(白菜)mean you will become more rich(财).
Lotus (莲花) means Auspicious(吉祥).
Radish(萝卜)means health(康).
Flower means rich and noble(花开富贵).
pine(松)and Crane(鹤), means health and longevity(松鹤延年).
Bamboo(竹) means that life gets better day by day(步步高).
............................................................................................................................
animal
Bat(蝙蝠)means good fortune(福).
Dragon or Kylin dragon(龙,麒麟)is amazing animal in Chinese mythology,it means auspicious(吉祥).
Phoenix(凤凰)is the divine bird in legend, which means to have eternal life(涅槃).
Bird(鸟)means Auspicious(吉祥).
Pixiu(貔貅) is an amazing animal in Chinese mythology,According to legend,It can bring wealth to the wearer.
Mice(玉鼠)can bring people wealth(财).
Gold Toad forg(金蟾)can bring people wealth(财).
Pig(猪),dog(狗)can bring people wealth(财).
Tiger(虎) means vitality(生龙活虎).
Cock(鸡)means auspicious(吉).
Snake(蛇) means auspicious and long-term development(长远).
Fish or gold fish (鱼或金鱼)means you will become more rich(财)
Monkey(猴) means promotion and become a great leader(挂印封侯).
Cicada(蝉) means wisdom,knowledge(智慧) or get good grades of exam(金榜题名).
Butterfly(蝴蝶)means good fortune(福)and descendants stretches(多子多福).
Spider(蜘蛛)means will bring good luck to you(喜).
Crab(蟹) means your will get wealth from all directions(八方来财).
Crane(鹤),turtle(龟),they are all means health and longevity(寿).
........................................................................................................................
others
Ruyi(如意) is the ancient emperor's tool made with Jade, he used to scratch the back when he felt itch, It means all wishes come true.
Gold ingot(金元宝)or chinese coin means become increasingly rich.(财).
Ship(船)means every thing will be smooth .
I am not just sales of jade, More importantly,I should to disseminate the culture and spirit of jade.
The history of Chinese people use jade as long as 7,000 years .In ancient China, only the emperor and the nobility are eligible to wear the jade accessories, because it symbolizes the noble identity.Chinese people used to say: Gold has a price but jade is priceless, that means, jade is extremely expensive gem.
All of natural jade has a little flaws,It is a symbol of the world are not 100% perfect.
According to traditional Chinese medical theory that "People nourish jade, jade nourish people",The people can luster the jade that they wear, meanwhile, because Jade mine is buried in the ground for hundreds of millions of years,It rich in a variety of useful Element, It can bring health to people. Longevity of the emperor in ancient China, they are usually using the Jade.
Jade is characterized by warm and moist,therefore it represents a philosophy of moderation that be Called Tai Chi in China.But morderation not equal to the weak simply, In ancient China, jade is also often as a sharp weapon,as the seal of the emperor.It also represents a powerful force, This character is called"needle in the the cotton"by Chinese.
The chinese people used to say :People would rather like a jade broken, but reluctan to maintain the integrity just like a brick,that means, If a person has not the strength to defeat the threats of evil, then he willing to sacrifice, but he was always able to maintain the spirit free from humiliation.
The great ancient Chinese philosopher Confucius said that "the noble virtues of the people like Jade.In his view, the jade with benevolence, wisdom, righteousness, propriety, friendship, loyalty, honesty, generosity, pragmatic, Optimism, come to ten kinds of moral symbol.
Jade is a amulet: It is said that jade there is a capacity of memory, recognize their own masters, If the jade is broken in a accident, which means it suffered a disaster instead of their master, Therefore, we usually wrapped the broken jade up with red paper,and properly preserved.
日本代购
yahoo代购
美国代购
ebay代购
海外代购